phs Compliance conquer the National Three Peaks Challenge for CRUK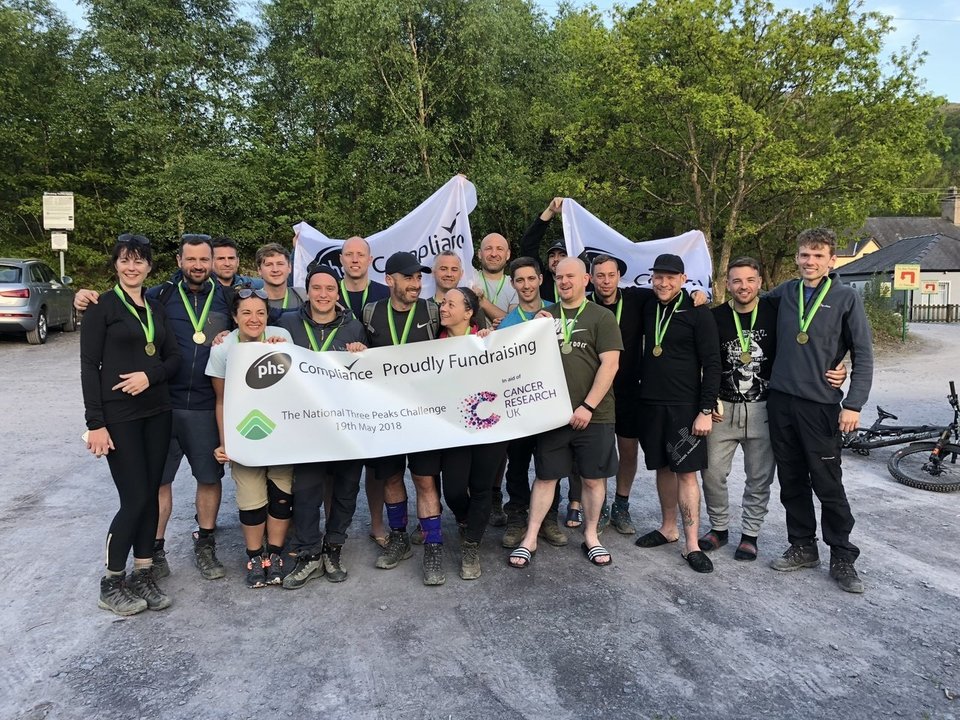 In May 2018 phs Compliance staff raised over £5500 for Cancer Research UK by taking on the National 3 Peaks Challenge in 24 hours!
This is an arduous and tough challenge, ascending more than 10,000 feett and 23 miles of walking, including travelling 462 miles.
Our team of 23 brave employees successfully climbed the peaks of Scotland's Ben Nevis, England's Scafell Pike and Snowdon in Wales, achieving the significant challenge within twelve hours.
The team raised over £4,500 for Cancer Research UK and with support from phs Team Match Funding, a further £1,000 was added to their total. Congratulations all!
Pete Waugh, phs Compliance's Head of Electrical Inspection and challenge organiser says:
We would all like to thank everyone who supported us with this challenge. Through money and time, we would not have been able to do it without you. To those who walked bravely and at speed, to our colleagues who drove the mini-buses and got us from peak to peak on time, to those who cooked breakfasts and made packed lunches with the generous donations from Sumners of Pennington Butchers, to our families and friends for cheering us on at the foot of Snowdon, and to all those who have donated so generously including phs Group for the match funding.